"I've had the sort of day that would make St. Francis of Assisi kick babies."
― Douglas Adams, The Long Dark Tea-Time of the Soul
#Trigger Warning: This post contains literary imagery that may be unsuitable for sensitive readers. Reader discretion is advised.
Yesterday was a very, very bad day.
I woke up groggy, irritable, impatient, intolerable. I wasn't even able to finish my sacred daily morning coffee ritual before the first phone call with bad news was had. Calm words were spoken at first, then the tension grew until the eventual crescendo of emotions escalated the verbal barrage to surgical strike precision and mean-spiritedness.
More phone calls of the same irritating type kept smacking me in the face, urging me on to proclaim that Thursday, December 27, 2018 was going to be shitty day.
Words, thoughts, and intent are powerful tools; they may be used either for constructive, positive endeavors, or they can be handled as subtly as an angry bull wreaking havoc in a china shop cliche to swathe a path of devastation if someone even looks at you the wrong way. Either way, they prepare and condition the mind for events; that's why mantras, repetition, affirmations are key to good mental health.
Don't maim anyone today. Don't maim anyone today. Don't maim anyone today.
And I should've listened to my own damn advice yesterday.
I should've cleared my mind, used my techniques, closed my eyes, breathe, self-soothe, etc.
Yet I CHOSE to have a bad day, whether I consciously decided to or not.
I hopped unto social media, opened up the research tabs on my browser, to then be bombarded by a relentless assault of negativity and vitriol not unlike the slime you find underneath and around structures and junk after flooding from rainstorms.
I froze.
I allowed myself to be enveloped in the comfy blanket of familiarity and just go into autopilot mode – I spent more than half the day sitting in my terrace, on my favorite chair, just staring out at the outside world.
Despising it.
Wishing for a nuclear holocaust.
Cars and motorcycles zoomed by annoyingly with their loud, penile-compensating roars; individuals went on with their days, walking, carrying grocery bags, living their daily life.
They were living, and I was seething in anger and loathing, stewing in the cesspool of judgment, uncertainty, confusion, feeling my eyes well up with tears, my arms and legs shaking like a bartender's blender during Happy Hour, my chest thumping with the incessant need to go supernova, to cave in and just bleed out all over; I wanted to fingerpaint the floor with my entrails and draw a huge middle finger to the world.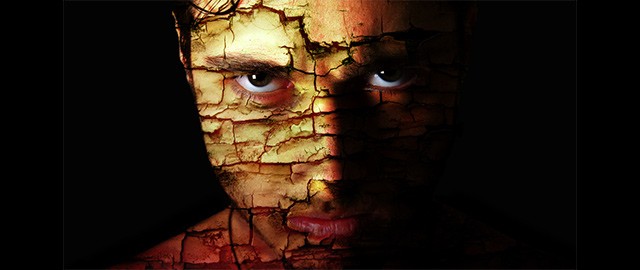 An example of how I see myself during an anger-fueled manic episode
I screamed in agony, but nothing came out of my throat except a slight whimper, a sigh of frustration, as my eyes darted around looking for some measure of salvation that would not come. I kept swinging in my chair, faster, harder, the rhythmic squeaking of rusty joints singing a lullaby, the familiar sound of anxiety and hopelessness. There was no music for me to dance to and bob my head with, there was no YouTube video playing to make me smile, amuse me and comfort me, and I almost made the mistake of breaking one of the cardinal rules: posting on social media while angry and manic.
In the past, I have relied on others to get me through manic episodes, much to the detriment of many interpersonal relationships, therefore I desperately hesitated for a few seconds.
I thought about getting in touch with certain individuals, but that would be an exercise in futility; in my mind, in my experience, people have better things to do than to listen to someone whine and complain, even if there is merit to the pain they are feeling, even if they are just shouting out to the heavens for some release from a force that will not let them go, a specter of mocking indifference that haunts their every thought, every action, every decision.
Also, I would probably tear them a new asshole just for the hell of it, just because I didn't want to be the only idiot in pain, according to Hulk.
(We'll eventually dive deep into the subject of abusive behavior in interpersonal relationships soon in a future post.)
On the other end of the spectrum, sometimes I find comfort in attempting to make my day worthwhile by making others happy.
That is a common trait for someone suffering from mental illness, especially Bipolar II Disorder or Borderline Personality Disorder.
It is also a very damaging trait that can lead to some terrible and dangerous decisions – I'll abound on that subject in the near future as well.
That being said, I decided to text my niece, whom I trust implicitly.
We had a very nice, short conversation.
I will paraphrase what she said in one of her messages:
"Well, drama will ALWAYS exist no matter how positive you are or try to be. Don't believe everything you see; god knows if it's relevant or accurate or whatever*. Just worry about your work and creativity. In the end, that's what we take to the grave. Our legacy, not rude, immature comments. Wow, I went deep there."
*Referring to social media in general.
(On a small sidenote: this 13 year old girl has more wisdom and insight than most "adults" I have seen skulking around social media; I am most definitely a proud uncle!)
Those few seconds were all I needed to snap out of it and put things into perspective.
An individual's self-worth should never be measured by their actions or lack there-of. Expectations are appetizers for thought distortion, leading to a manic episode full course meal; eliminate expectation, live in the moment, and the nemesis of irrational thinking will come over to the table and flip it the hell over: lucidity.
I was far from lucid. I was in a state of mania; there was no coming back. The only way through the episode was to embrace it, accept it, find enough presence of mind to communicate it to my significant other who was present in our home at the time of my freak out, and then isolate myself from all forms of toxicity, all possible triggers that could worsen the situation.
So I avoided social media like the plague.
I turned off my laptop.
I put away my work materials, adjourned to the bedroom, lit some incense, allowed myself to cry, and then proceeded to painfully sob and scream into my pillow until my throat fed me cathartic bliss.
My body went limp. I lifted my head and opened my eyes. Light hammered into my eyes, slamming my brain with clarity. The pillow was soaked in a mélange of sweat, tears, saliva, and snot.
I got up from the bed, weakly limped over to the bathroom, feeling the strain of tension slowly melt off my body like a molting snake. I washed my face, rubbed off what little tension was left in my neck , walked over to my significant other, kissed her on the forehead, told her that I loved her, thanked her for her love and patience, went back to the bedroom, fired up my laptop, and played videogames until nightfall.
Unfortunately, I got absolutely no work done yesterday, no goals were accomplished – I felt worthless.
Or so I thought until I realized:
I didn't hurt myself.
I didn't hurt others.
I survived another manic episode.
And here I am able to retroactively introspect on what happened, now sharing a minor tale of triumph in the book of Life, with many more chapters to come.
I guess the day wasn't so bad or such a waste after all, huh?
To quote a grand philosopher: