"You know how most illnesses have symptoms you can recognize? Like fever, upset stomach, chills, whatever. Well, with manic depression, it's sexual promiscuity, excessive spending, and substance abuse—and that just sounds like a fantastic weekend in Vegas to me!" – Carrie Fisher
My legs couldn't stop shaking, sitting in the inner sanctum of the psychiatrist's office – no 14 year old wishes to spend an afternoon being forced to answer awkward questions, feeling ashamed, embarrassed, and judged. The old mahogany chair with thick leather padding was oddly comforting, though – small streams of sunlight broke through slits in the window shades, shining on to what seemed an endless collection of musty old books, weird statuettes, and myriad pieces of art. My eyes darted from corner to corner, taking in all the details, avoiding the doctor's eyes, feeling like they were going to swallow me whole, pull me into a black hole of shame that I would never escape – just another adult telling me that I was fucked up, unfit, hyper, pointing out how useless and disruptive I was and send me on my way.
The doctor sat behind his enormous, beautiful oak desk covered in papers, trinkets, and other little knick-knacks, unlike other places I had visited – this office was different, messy yet organized, retro yet familiar (even for the early 90's). His eyes were wide, yet kind – crystal greyish-blue, like a calm ocean of patience and understanding; his white hair and beard, along with his Spaniard accent, reminded me of Don Quixote – I thought of the irony behind that thought and chuckled softly. At first I was terrified when he brought out what seemed an ancient tome of magical power, full of demonic incantations and necromantic rituals. He put on his glasses, slowly slid through the pages, with careful, painstaking precision; he then handed the book over to me.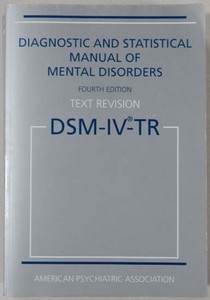 Also known as the Necronomicon Ex-Mortis – just kidding. 
"Read what's on the page. If you have any questions, which I am sure you will have, feel free to ask – we have time", the good doctor said.
Take your time, dear boy, I'll go chase a couple of windmills while you finish reading….
Big words, clinical terms all dizzied my brain yet I took my time; the more I read, the more I strangely wished to understand the alien language laid out in front of me, to decipher whatever code would unlock the secret behind what was wrong with me.
We spoke for what seemed a lifetime – but the doctor was kind and patient. He answered all questions, cleared any doubts I had, treated me with respect and compassion – he did not treat me condescendingly, like a walking pack of dollar bills, a future renovation for his swanky home.
He was preparing me and my family for a diagnosis that would change our lives forever.
I sobbed as my parents were called into the office. For most of my childhood, I was being handled as a child with ADD/ADHD* – back in the 80's, that was the big trend: "Your child's just being hyper, he'll get over it; give him some pills, smack him upside the head if he gets too rowdy, and he'll be fine".
*For more information, feel free to click the links: ADD – Attention Deficit Disorder, ADHD – Attention Deficit Hyperactivity Disorder
The doctor carefully explained the scenario to my family –  the lack of impulse control, my sudden outbursts of anger, terrible fits of crying and wanting to disappear, wishing to die, aggressive behavior, etc. I was the perfect Molotov cocktail of mental illness, a ticking time bomb that if not treated soon enough, would've exploded into a full blown danger to myself and others – I had just hit the height of puberty. The sudden change in hormonal balance, exacerbated by an already pre-existing chemical imbalance became too much for my mind and body to bear.
In 1991, I was officially diagnosed with Bipolar II Disorder.
It is very important to note that back then, diagnosing Bipolar Disorder was still fairly uncommon – the mere fact that my doctor at the time was willing to put in the extra effort to rigorously tend to my plight is a testament to the dedication that many mental healthcare professionals need to strive for. Unfortunately, that is a topic for another day.
The National Institute of Mental Health (NIH) breaks down the disorder into 4 types:
Bipolar I Disorder

— defined by manic episodes that last at least 7 days, or by manic symptoms that are so severe that the person needs immediate hospital care. Usually, depressive episodes occur as well, typically lasting at least 2 weeks. Episodes of depression with mixed features (having depression and manic symptoms at the same time) are also possible.

Bipolar II Disorder

— defined by a pattern of depressive episodes and hypomanic episodes, but not the full-blown manic episodes described above.

Cyclothymic Disorder (also called cyclothymia)

— defined by numerous periods of hypomanic symptoms as well numerous periods of depressive symptoms lasting for at least 2 years (1 year in children and adolescents). However, the symptoms do not meet the diagnostic requirements for a hypomanic episode and a depressive episode.

Other Specified and Unspecified Bipolar and Related Disorders

— defined by bipolar disorder symptoms that do not match the three categories listed above.
In my years combating the disease, I have learned a thing or two which I wish to share with you:
When most people think of Bipolar Disorder, they typically default to Type I, or may confuse the behavior with another mental disorder that shares similar symptoms: Borderline Personality Disorder. It needs to be said that even though they share symptoms, they are NOT treatable in the same manner: therapies and medication always vary, and it is of the utmost importance that a mental health professional, a patient, and their family/support system work closely together to correctly identify the symptoms in order to get as clear a picture as possible – one simple lie or omission can turn into a cascade of complications that may aggravate the condition if the wrong therapy or medication is administered.

Bipolar Disorder is not curable

. Fortunately, there have been many strides made in treatment options, and with further education to the public the medical community has been able to reach out and better inform the general public about new medications, natural remedies, and all sorts of options available to alleviate certain symptoms.

Bipolar disorder can be successfully treated

. Just because the disorder is not CURABLE does not mean it is not TREATABLE – it does not mean that one cannot live a functional, even fruitful life full of success. Many successful high profile artists, authors, business people, and many more live with the condition and have been capable of excelling at their fields because they chose to take treatment seriously, to follow-through on their commitment to themselves, to their health, to their loved ones, to those around them.
Just like any disease, there are variations, and with those variations come options: not all diabetics need to inject insulin, not all cancer patients go through chemotherapy, nor undergo invasive surgical procedures as part of their treatment plan. The key to living with bipolar disorder, in my opinion, comes down to a few key details:
Know yourself

– A huge pitfall of many folk who deal with bipolar disorder is blurring the lines between personality flaws/virtues/characteristics vs behavior that is attributed to the disorder. Attempt to identify a baseline for your personalty and behavior; define those details and anchor them – they will be your point of reference if you ever feel that your symptoms are starting to rear their ugly head.

Be honest with yourself and others

 – Don't fool yourself into thinking that just because you have a handle on your symptoms on any given day that you're honky dory and ready to dance. You will always have the condition – you cannot afford to rely on complacency and blind yourself to the fact that symptoms can not only exhibit themselves in the blink of an eye by some internal/external trigger, but they may escalate just as quickly, if not exponentially quicker. If you feel that you are off your baseline, evaluate, act accordingly and alert someone you trust who knows of your condition of the situation.
It is OK to take a break – They are not called Mental Health Days for nothing; everyone is entitled to have a bad day, maybe a few bad days in a row in some rare situations, and that is perfectly fine. Mentally ill patients sometimes need to distance themselves from certain sources that may possibly aggravate their condition, especially if they are aware they are off their baseline. Distance and rest is good, but, just like anything else, it is only healthy in moderation – distance must not be allowed to turn into permanent isolation; rest must not turn into hibernating in bed for days on end, without the will to see the light of day.

Be diligent with your treatment plan

– I cannot, CANNOT, stress this enough. All the medication in the world might curb a symptom or two, but if you do not seek psychological therapy as well as pharmacological treatment, and formulate a stable treatment plan including your doctors and family in the process, you will never, EVER learn to harness the powerful tools and techniques that will give you an advantage over the beast the lurks inside the ill mind. A basketball team full of point guards isn't going to be competent team, let alone a winning team – it takes different elements, with different skills, that work together in harmony to succeed at any endeavor, and that includes mental health treatment.
Yeah, big words, lots of words, ocean full of words, big ocean….wait….
Almost went off track.
Look, I know – it's a long preach, there's no entertaining narrative trope to make it noteworthy nor interesting, and it seems like a never-ending, lonely path to uncertain doom, but trust me when I tell you: it's not.
You are not alone in this.
You can do this.
I have lived, I have lost, I have learned, I have suffered, I have laughed hysterically, screamed my throat to hoarseness, sobbed 'til my eyes throbbed, stabbed and put out cigarettes on my arms in acts of desperation, cut my thighs in penance, drank myself into filthy gutters and pools of vomit, woken up in strange places with strange people, I have been institutionalized, scrutinized, analyzed, poked and prodded – I have lied, I have manipulated, I have confessed, begged, pleaded, bargained, coerced, faithfully promised.
The point is….I am lucky to be alive and healthy(ish).
Not everyone is as fortunate as I am.
And I am grateful for that.
I was 14 when I was diagnosed – I am now *ahem ahem* an undisclosed age which I will not divulge out of personal pride and because I just don't feel like being roasted even though I maintain my ruggish, handsome good looks *ahem ahem* – and yet here I am, alive and kickin', working hard, focused, determined.
If I can do it, so can you.
I trust you can.
I know you can.
We all do.
Every day I wake up, open my eyes, and thank the Universe for giving me the opportunity to allow myself to be the eternal student, to keep learning about myself, to learn more lessons about life, the Universe, everything, and to share those things with you guys.
Life begins anew daily when you learn to love it, to love yourself, to sincerely fight the good fight, to not give up.
There are good days.
There are bad days.
But there are still many more days to come, and that's what matters.